Stellenbosch University, Paul Roos Gymnasium and Remgro launch worldclass indoor cricket facility
Stellenbosch University (SU), Paul Roos Gymnasium (PRG) and Remgro have developed a self-sustaining indoor cricket facility on the school's property, facing the main cricket oval. The new indoor cricket facility is officially completed with the estimated cost value being almost R15 million and will be used by all parties involved.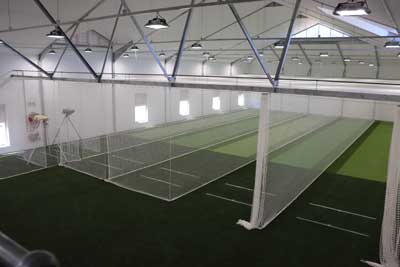 The facility which boasts six different cricket nets, one net being spinner-specific, three nets for seam bowlers, and two bowling-machine nets as well as a conference room, kitchen and locker room.
At the event, Prof Stan du Plessis, Chief Operating Officer of SU, said that "Funding from Remgro, SU and Paul Roos Gymnasium made this agreement possible. Construction of the new facility commenced early in 2021 and has now been completed, SU is extremely excited about the role this facility will play to raise the quality of cricket training in Stellenbosch," he said.
André van Staden, the Rector of Paul Roos Gymnasium, "I am excited that we have developed this indoor cricket facility, which will add a lot of value to the school's cricket programme. We are looking forward to work in partnership with SU and Remgro to create a new facility which students and the broader Stellenbosch community can utilise."
According to Rob Benadie, Chief Executive Officer (CEO) of Stellenbosch Academy of Sport (SAS), "Investing in this project along with SU and PRG, will further enhance Stellenbosch's reputation as a sport destination that caters for many sport codes," he concluded.
Liaise with Karien Winter (Paul Roos Gymnasium) at kwinter@paulroos.co.za or 0823951781 or with Kimara Singh (Maties Sport) at kimaras@sun.ac.za or 0732357459 for more information.