By Maties Sport Media and Communications Unit
A number of Maties athletes, both past and present, recently took part in the 2022 Commonwealth Games in Birmingham, England.
The Games took place from 28 July to 8 August and marked the first time a major international sports event was integrated – hosting the paralympic and non-paralympic games at the same time.
South Africa took home a total of 27 medals, including seven golds, nine silvers and 11 bronze medals. There were five current student-athletes and one coach from Maties at the Games with 12 of our alumni also making to the competition, 15 representing South Africa and three other countries.

CURRENT
Rugby: Bianca Augustyn (RSA)
Para-athletics: Charl du Toit (RSA) and Coach Daniel Damon (RSA, field coach)
Swimming: Tilka Paljk (Zambia) and Adam Moncherry (Seychelles)
Netball: Nicola Smith (RSA)

ALUMNI
Netball: Nichole Taljaard (RSA)
Rugby: Sakoyisa Makata (RSA), Christie Grobblaar (RSA) and James Murphy (RSA)
Swimming: Emma Chelius (RSA)
Para Swimming: Christiaan Sadie (RSA)
Hockey: Heather McEwan (Scotland), Keenan Horne (RSA), Tarryn Lombard (RSA), Quanita Bobbs (RSA) and Wanri Venter (RSA, umpire)
Cycling: Mariske Strauss (RSA)

ParaSport
Maties ParaSport club member Charl du Toit took home the silver medal in the men's 100 metres (T37/T38) final on 3 August, setting a new T37 Commonwealth Games record of 11.54 seconds in the process.
"Ever since I was a little boy I always wanted to wear the green and gold, even if it was just once. And to represent South Africa at this Commonwealth Games was truly an amazing experience. I'm so grateful for it," said Du Toit.
Du Toit, 29, announced that he was retiring after the games, calling time on an illustrious career which included two gold medals at the 2016 Rio Paralympic Games, as well as two gold medals at the 2017 World Championships.
He credited Maties Sport for the support he received throughout his career.
"Maties Sport has been the most consistent supporter of my athletics career I would say, from an institutional point of view. So I'm extremely grateful for the support and the people that I've met along the way at Maties Sport as well. I'm a very proud Matie and will always be patriotic towards them," said Du Toit.
"They have really invested their time and effort into my career. They actually value Parasport, they don't just tick boxes – they value it and that is something I will always be grateful for and I'm hoping that the legacy of Parasport and inclusivity at the university can continue, and that we, as the institution and as South Africans, don't just tick boxes but actually really value the true meaning of inclusivity," he said.
Daniel Damon, the throwing coach at Maties, coached the South African Para throwers during the Games.
Rugby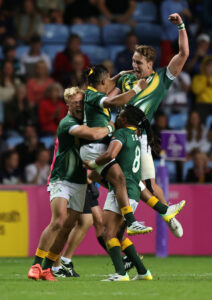 Former Maties rugby club members Sakoyisa Makata, Christie Grobblaar and James Murphy were all part of the South African men's rugby sevens team which won gold at the Games on 31 July, defeating current Olympic champions Fiji 31-7 in the final.
James Murphy was ecstatic as he added a Commonwealth gold medal to his list of accolades but attest his success to his time at Maties and the coaches who helped him along the way: "In terms of Maties, obviously that's where my rugby career really started. Having not played rugby on school, Maties was really the steppingstone where my love for Rugby really began. From the highs and the lows, from being told you're not good enough to be playing. It's all part of character building, that's sets you up for professional rugby.
"Representing South Africa at the Commonwealth Games, there's certain pinnacles in one's career, specifically in sevens rugby that you look towards. It has been a massive goal of mine and absolute privilege and honour to represent my country and the hopes of everyone back home."
Maties women's rugby club member Bianca Augustyn represented South Africa in the women's rugby sevens at the Games. The team finished in seventh place, she had this to say after her first taste of the international stage as well as echoed gratitude to her Maties Head Coach:
"It was an amazing feeling, still feels so surreal that I represented my country. It was just a huge honour to run out on the field knowing that I'm representing something bigger. I've always dreamt of a moment like this, and I was grateful and blessed for the opportunity to live out my dream.
I started playing rugby for Maties in 2018, where we still had to train on the volleyball court. From there till now it has been a 180 flip and all thanks to my coach Johann Zeier and the help from the Maties Rugby Club. Johann really put in a lot of effort to get us where we are today. So, a big thanks to him for his guidance and commitment, because without him there wouldn't have been a rugby program to start with," she insisted.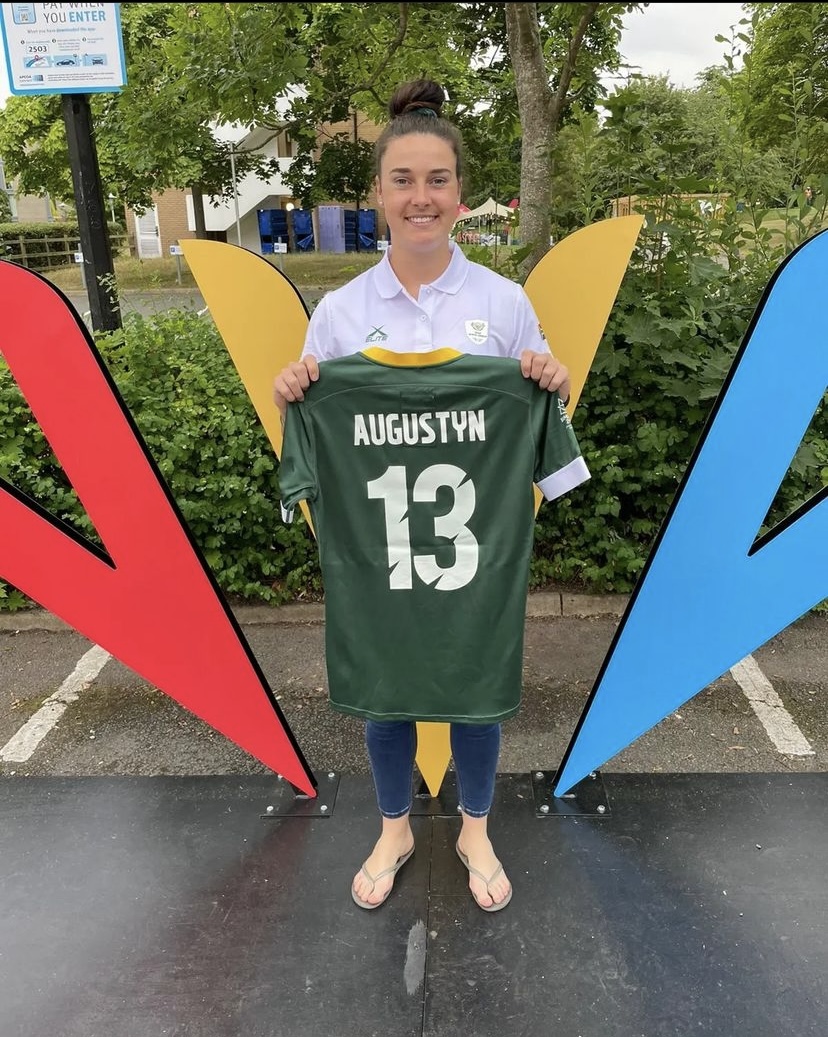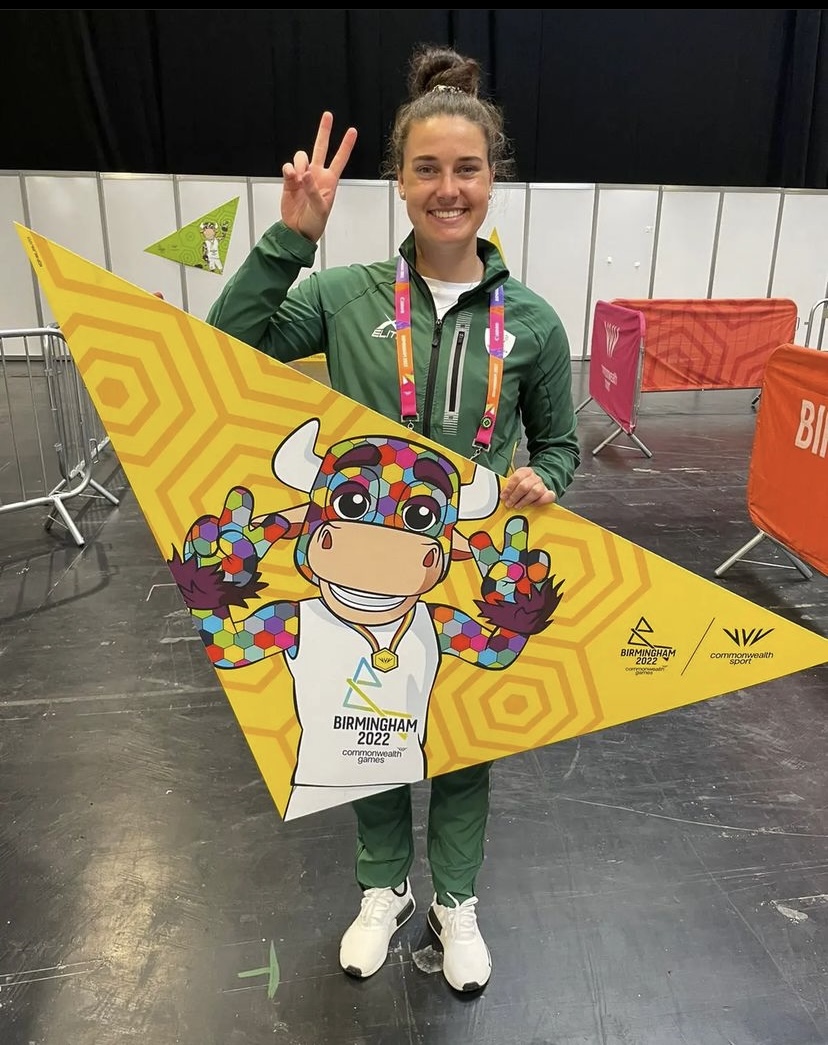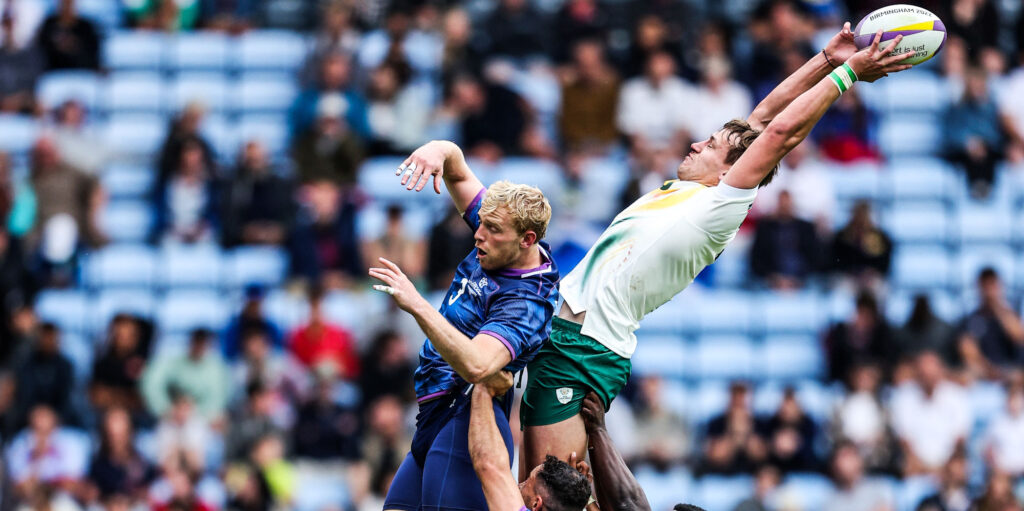 Hockey
An array of former Maties took part in both men's and women's hockey, as the ladies finish 7th while the men pushed English all the way in a pulsating bronze match encounter but the hosts snatched victory from the green and gold.
"It is amazing to be at a multi-sport event, this is my second Commonwealth Games, let me tell you the appeal and the prestige of it, all continues and remains so fresh like it's your first one, but every time I put on the South Africa jersey representing the country is very special to me.
But to be achieving, to be one of the first teams in twenty years to make a semi-final in the Hockey section for South Africa, makes it even more special because again we don't want to participate in these tournaments we want to be competing and we've definitely done that," said Maties Hockey alumni Keenan Horne.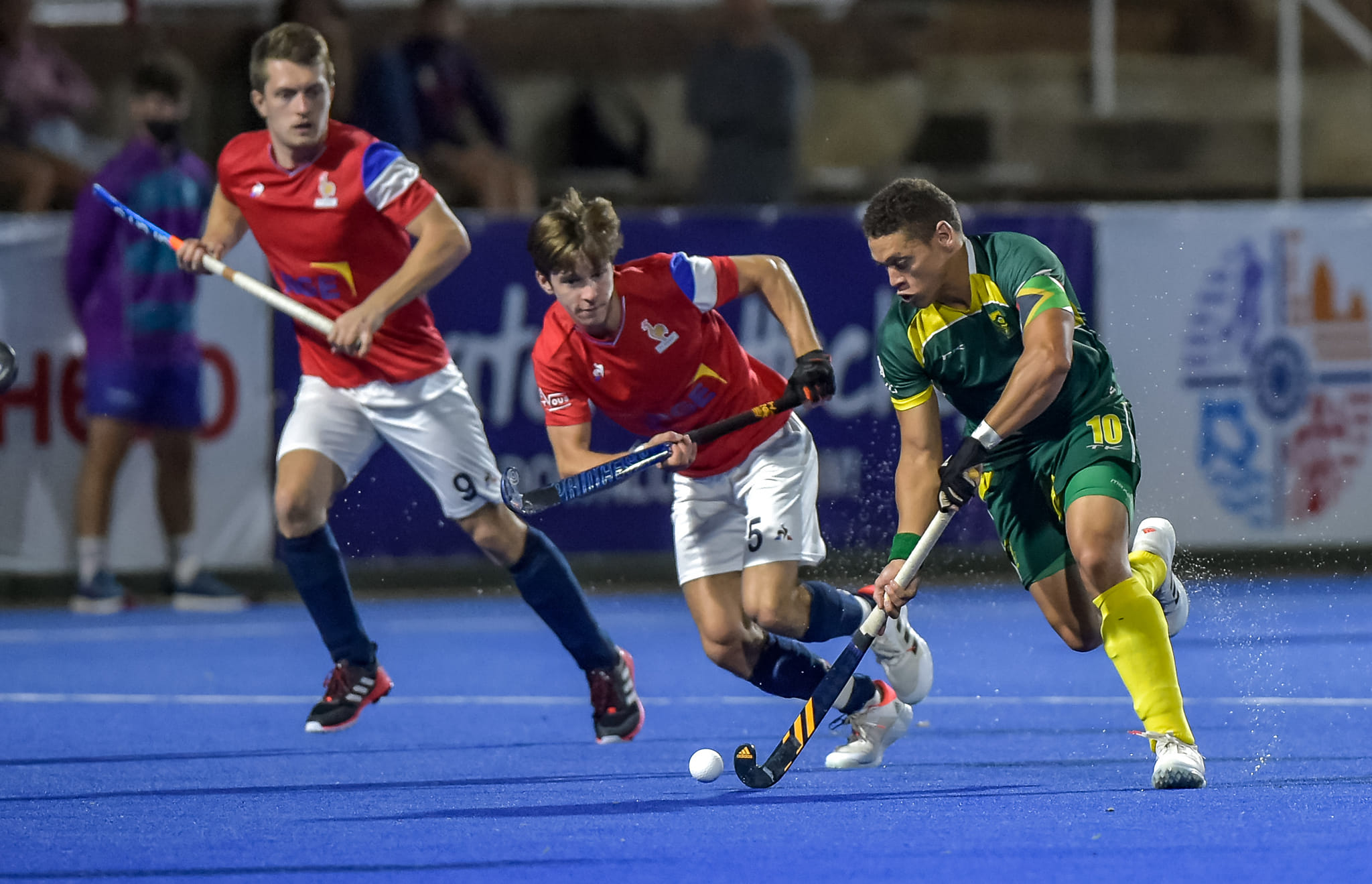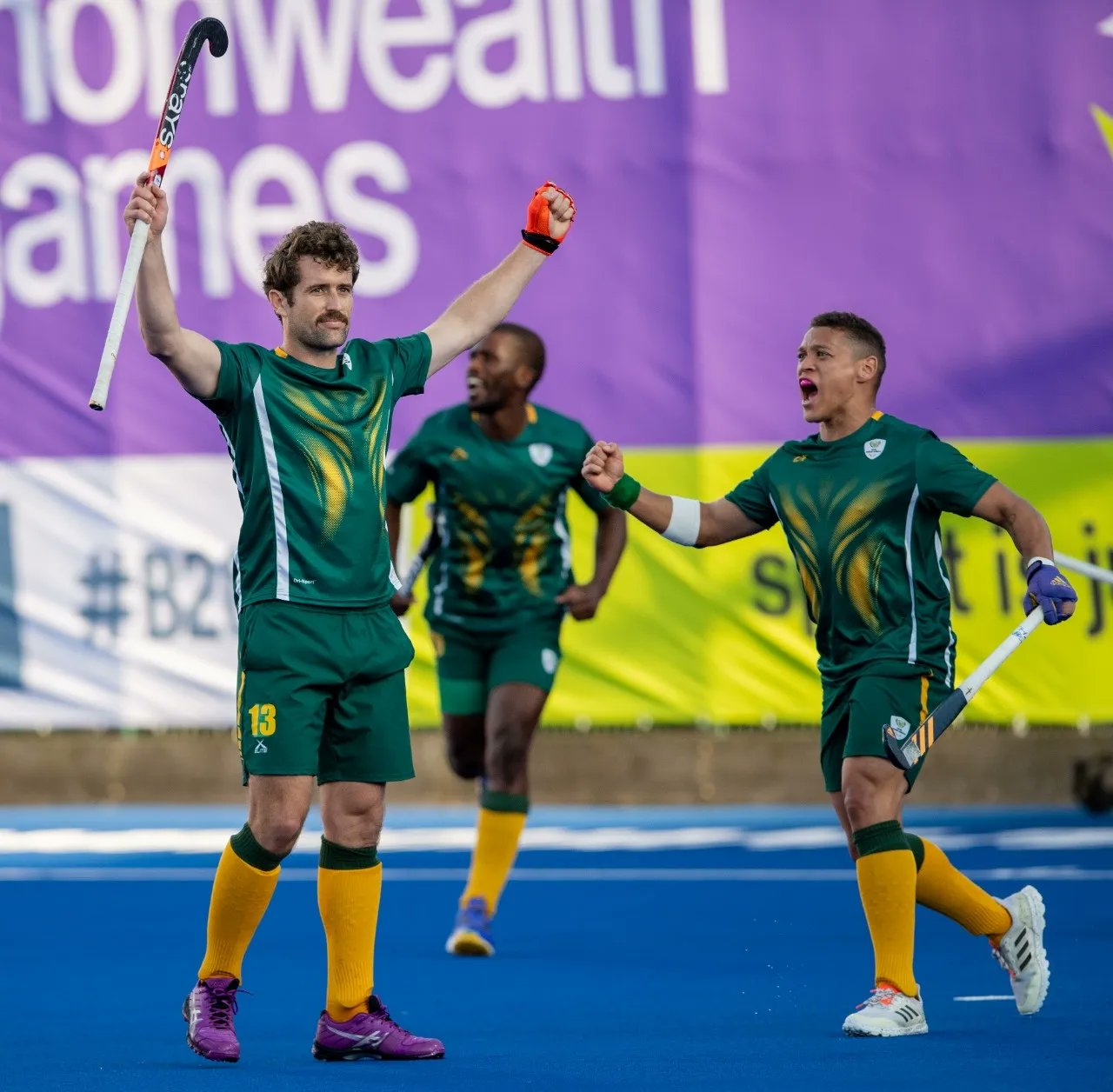 Netball
Current Maties athlete Nicola Smith and alumni Nichole Taljaard were part of the South African netball team which finished in sixth place at the Games.
After South Africa and Uganda both finished third in their respective pools, both teams faced each other for the 5th position play-off match. The two nations have previously played each other 16 times before with South Africa enjoying most of the wins, however the Proteas fell short of 5th place on this occasion the game ended 48-54 to Uganda.
Swimming
Maties athletes Adam Moncherry, representing Seychelles, and Tilka Paljk, representing Zambia, competed at the Games.
Moncherry competed in the men's 50m and 100m freestyle, the men's 50m and 100m butterfly, the men's 4x100m freestyle relay and the mixed 4x100m freestyle relay, while Paljk competed in the women's 50m and 100m breaststroke, the women's 50m freestyle and the mixed 4x100m medley relay.
Tilka Paljk speaks on her experience at the Games which was her third saying, "It's always an honour swimming for my country and such an amazing experience.
Maties has given me the opportunity to be able to study and swim without the stress. My coaches and lecturers have been working together to ensure that I can do both effortlessly and I am so grateful for that!"
A wonderful end to the Commonwealth Games for all our Maties who soaked up the experience in Birmingham and came home as heroes – thanks for flying the Matie flag high on the international stage!