Maties Sport prioritised the upgrade of our Tygerberg sporting facilities in line with our strategic objective of providing access to a diverse recreation and active lifestyle programme to the University students, staff and to the community.
Led by the institution's Facilities Management team, the Tygerberg Multipurpose Sports Facility project caters for tennis, netball, basketball, badminton and other recreational codes. The project began in March 2021 and was launched on the 21st February 2022.
Ilhaam Groenewald, Chief Director of Maties Sport is happy upon the completion of this project, "This facility provides the opportunity for an improved service and programme delivery including opportunities for our students and staff, our surrounding community for initiatives such as the hosting of local leagues and social impact programmes.
Maties Sport remains committed to providing  opportunities to enhance participation in recreation activities, thus contributing to an active lifestyle and this facility affords the opportunity for our students and staff to live a healthy and balanced life with academics and recreational sport at the forefront," she went on to say.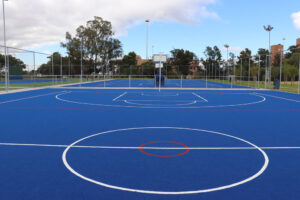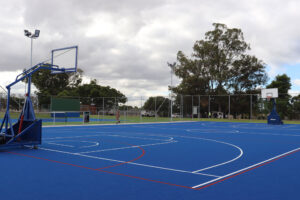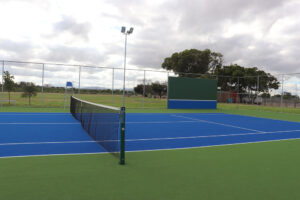 At the opening, Stellenbosch University Rector and Chancellor Prof Wim De Villiers was in attendance and remarked that: "Leisure is important, work balance is important because burnout is real. As we've seen more of it during the last two years and it's also particularly crude of our healthcare professionals, it's absolutely crucial to overall health and wellbeing to find that balance and to spend some time here out on these courts, which are some great courts!"
Tygerberg Campus Sport Administrator Yaseen Gangat further echoed his gratitude saying, "It will allow users to host recreational activities after hours – which is essential when it comes to the busy schedule of our students on campus." As a sport administrator who deals with the Tygerberg students on a daily basis, this is massive testament as the expansion of facilities will be extremely beneficial towards students and the community at large.
Wandile Mokhele, TSRC Sport Manager at the Tygerberg Campus, says the facility will make a huge difference to students' physical health and mental health. "In the first week of the courts opening, more students than ever have taken to the fields at all hours of the day. I think there are number of memorable experiences to be held on this court and I hope that it's the first on the path of greatness for sports on Tygerberg," he expressed.
Caitlin Sithole a Maties Sport women's football player and M.B.Ch.B student had this to say, "For us as students, sport is incredibly important it's not just for our physical wellbeing it's about intellectual wellbeing and I can say personally that sport is a very integral part of my life and it has allowed me to focus on my academics when I need to but then also focus on my all around wellness. If you are not looking after all aspects of wellness you cannot flourish."
Prof Elmi Muller, Dean of Faculty of Medicine and Health Science: "You can't go into a career like medicine and face the challenges that we see day to day with patients and patient care if you don't have some form of switching off and having a balanced life. This is an important thing for all of us and we do it in all different ways, but sport is such a big part of this so I'm very excited that we have this beautiful facility which will create another opportunity for many of the students living or working on campus. I hope it will be a place of enjoyment, fun and happiness and many more social events," she concluded.