After finishing fourth – with a new African record in the F45 shot put – at the 2020 Tokyo Paralympics Maties' student-athlete Kerwin Noemdo has to make a few big decisions in the lead up to the next Paralympics in Paris.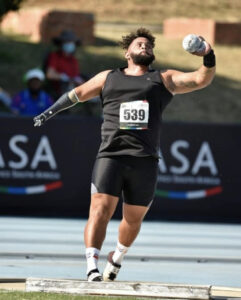 "It all comes down to financial support," said Noemdo.
"I know I can win a medal in Paris. I know I can win a gold medal in Paris. But that is if I get some sort of financial support to have the freedom to focus completely on my sport. If I don't get that, I will have get a fulltime job and then I will have to see how I can fit my athletics in this schedule. It is not something that is impossible, but it was evident at the Paralympics that the best in the business are professional athletes."
In the weeks since coming back from Japan Noemdo has used the time to find his feet in life after the Paralympics and keeping up to date with the post-grad studies. He is also doing coaching jobs at schools.
"I try to get back into life as it was before I left, but it is different. I lived in bubbles in the lead up to the Games and during the Games. I constantly was in an environment with people who like me had the singular focus of doing their best at the Paralympics. The real world kind of did not exist…it was all about the Games. There definitely are some withdrawal symptoms at the moment!" said Noemdo.
Looking back at the Games itself Noemdo said he tried to experience as much as possible, even though it wasn't that easy.
"There obviously were a lot of Covid-restrictions, but my competition was rather late in the Games so I was completely focused on being ready for my event. And then it was over in a split second! I asked myself 'Is this it?' I would have liked to have more interactions with others, but I did have a great experience," said Noemdo.
For Noemdo the fourth place was a bit of a frustration, but looking at the bigger picture he is a satisfied man.
"It's always been a dream of mine to compete at the Paralympic Games and I can finally call myself a Paralympian…something no one can take away from me."