Varsity Cup preparations have been ongoing since last year as the Maroon Machine remain hopeful they will have silverware at the end our the tournament.
Maties have been crowned Varsity Cup champions five times and they hope to kick off their campaign positively on the 14 February as they face defending champions Tuks on their home turf, Maties will then play their first home game against Wits two weeks later at the Danie Craven. This season sees a new revised 50/22 law which states:
"A team in possession that kicks the ball indirectly into touch from inside his 50m gets a free-kick 15m in from touch opposite or behind the line of touch where the ball went into touch. That team may not take a scrum or lineout, they must take a tap kick. If that team scores from there, the try value will be seven points. There is no requirement for a set phase inside your own half. A team may carry the ball back into their own half and kick it indirectly into touch inside the opposition's 22m. If a team scores from the tap, they get an additional two points for that try." – Varsity Cup
Ahead of the competition Head of Maties Rugby Progam Drikus Hancke spoke about the teams preparations, "We are very happy with the way the preparations are going. We have not had a lot of injuries and have been training with almost a full squad for most of the time. The players and the management have been working hard."
"The players are well conditioned and we are excited to move into the next phase, from next week we will be playing friendlies. This will give us a better idea of where we are and give the players some much needed match condition training before the tournament starts. Competition is fierce in a lot of positions so it will also be important for the players to put up their hands for selection," he explained.
When asked which Maties players supporters should keep a look out for as a key player or upcomer, Hancke went on to say that: "It is difficult to single out players as we have a lot of quality players in our squad. I will mention two newcomers that the supporters maybe do not know. On loosehead we have Rynhardt Rijnsberger and Vernon Matongo who are both very promising. Vernon is 20 years old this year and Rynhardt turns 21 this year. They are both very strong scrummagers and ball carriers."
Two of the biggest competitors to Maties going into the tournament are Tuks Sport and NWU Eagles. "I think the competition will be very strong across the board but if I have to choose I will say Tuks (who are always strong) and Pukke who have a lot of their players left from last year," he mentioned.
Hancke has a team around him who make our Maties first team and Young Guns tick, as well as keep them motivated going into games.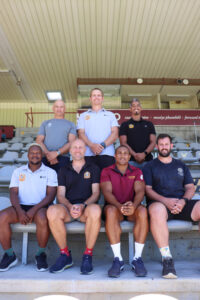 Meet our Maties Rugby Coaching Staff:
Drikus Hancke (Head of Maties Rugby Program)
Norman Jordaan (Senior Team Head Coach)
Kabamba Floors (Senior Team Assistant Coach)
Eddie Fredricks (Young Guns Head Coach)
Pieter van Rooyen (Young Guns Assistant coach)
The coaches definitely contributed to one of last season's Varsity Cup success stories for Maties was Munier Hartzenberg who moved from Maties to Griquas after his contribution to the team. Hartzenberg crossed the tryline five times over the course of the 2021 season. After the tournament, the elusive FNB Maties wing was voted the FNB Back That Rocks.
Hartzenberg represented Rangers FC in Cape Town before he joined Western Province's junior structures. He went on to become one of FNB Maties' most dangerous attacking players in later years.More recently, Hartzenberg was contracted by Griquas and made his Currie Cup debut in the 2022 tournament opener against the Cheetahs.
We hope this season produces even more stars, tune in to the Varsity Cup and back the Maroon Machine all the way to the final!