German-born but raised in the Southern suburbs of Cape Town, top Maties Chess Club player, Nico Martin has been one of the clubs' rising stars who is set to represent country and university at the upcoming FISU Games in Belgium later this year. 
Martin the elder of three brothers was born in Munich and when he was around 2 years old, the family moved to Claremont, Cape Town where the Martin family would firmly embed their roots in the community of Cape Town. It is also here that Nico would explore, develop, and grow fond of participating in sports that he would play throughout his time at Rondebosch Boys' Preparatory School and later Rondebosch Boys' High School which would include tennis, hockey, and football for an external club until he was in grade 7.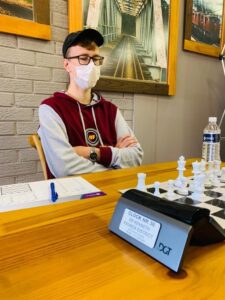 "I played soccer for a club during the time that I was in primary school, while in high school mostly played hockey and tennis," Martin told Maties Sport. "More recently I have decided to take up table tennis, which I now play for my residence [at Maties]."
It wasn't until he was 12 years old that the former Rondebosch Boys' High learner started participating in chess tournaments, despite learning the rules of chess as early as grade 1. 
"I learnt the rules of chess in Grade 1 when I was about 6, however I only started participating in tournaments and competitions outside of school when I was 12."
The second year Mechatronic Engineering undergraduate has excelled in leaps and bounds or rather moves up and down the chess board, since he has joined Maties Chess club. 
While Ruben Salimu coaches Martin at Maties Chess, it is this mentorship along with that of inspirational and well-known Cape Town-based chess coach Cecil Ohlson that has strengthened his game and strategy as a chess player allowing Martin to dominate the chessboard to the point where he is set to represent South Africa on the biggest university sporting stage. 
"My [external and personal] chess coach, Cecil Ohlsen, who always encourages and believes in me, inspires me to push myself even harder. Also, the competitive nature of chess always motivates me to do better and rise to new challenges through which I am able to reach the next level."
While Martin developed and continues to develop into a formidable name in the chess fraternity, the balance his parents have struck with him, and his two younger brothers is pivotal to Martin, and he regards this as one of the key driving forces behind his successes both in sport and academics.
"My parents have always supported me in all the sports and activities that I've chosen," said a proud Martin when speaking about the impact of his parents' sacrifices throughout the years. "They sacrificed a lot of their time driving me to chess tournaments and other sport fixtures while striking the right balance between being supportive without putting too much pressure on me. Academically they have always inspired me to do better and achieve more. 
The FISU Games is set to be hosted in Belgium in September, and while there is ample time for selection to sink in, Martin believes that he still needs to prepare adequately for the international showcase. The humble Maties student affirms that he needs to keep pushing himself so that he can be the best chess player that everyone can be proud of. 
"It is a great honour which I don't think has fully sunk in for me yet," added Martin. "Travelling overseas to compete internationally, for my university, on the world stage is something that I wouldn't have dreamed of a few years ago. I am very excited to travel to Belgium for the FISU games, but I know that some more chess training work on my part is required.
"My goal with my studies is to keep getting as many distinctions as possible to try to shoot for cum laude. However, after I get my degree, I'm not entirely sure as of yet which direction in engineering I will choose. Within chess, my current aim is to reach a rating of 2000 while my more long-term goal is to eventually obtain a chess title." 
Martin concludes by listing his representation at the World Youth Chess Championships in 2019 as his most notable accolade, this, along with his most recent victory and subsequent qualification for the FISU Games at the USSA tournament ranks as some of his best moments as a Maties Chess player.
"Representing South Africa at the 2019 World Youth Chess Championships in India. Winning this year's USSA Closed to qualify for FISU. Coming first in the U20 SA Closed Chess Championships last year with a full score. Playing annually for the Western Province youth chess team at the national championships (SAJCC) from 2015-2019."
"The biggest thing that can be done for chess is to erase the stereotypes that chess is only for "smart people" or that chess is "slow and boring"," Martin concluded, trying to debunk some myths that might exist around the chess sporting code. "The fact is that anyone has the potential to play good chess, and it is a game which has such great depth that the more you learn the more you realise that there is more to be uncovered."