The delayed 2022 Sasol League is finally taking place next week, rivals, Maties Women's Football Club, and Spurs Women's Football Club will kick off at Spurs home ground in Wynberg. 
The league is played in all nine provinces in the country and games will be played every weekend, with each province competing for their respective provincial titles till the end of November 2022.
The chemical company collaborated with the South African Football Association (SAFA) back in 2009, the partnership aims to develop and support women's football by creating opportunities for the team to participate in international tournaments around the globe.
Maties Women's FC are fully prepared to get back in the groove of things, the Sasol League was initially meant to kick off at the end of April, but due to ECG testing and the lack of referees in the tournament, it was delayed.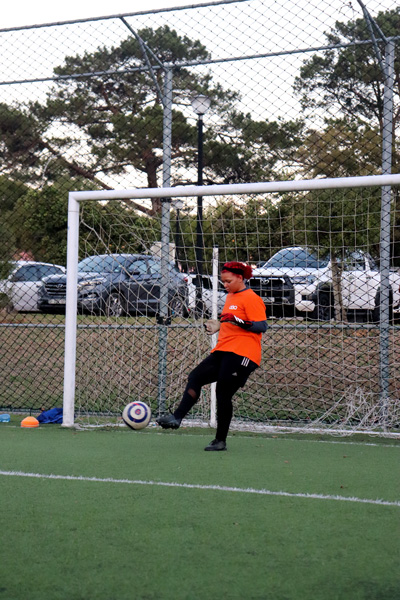 Recently appointed woman's football head coach, Jabulile Baloyi says she is hoping to finish in a better position this year in the SASOL League than the previous seasons. 
Coach Baloyi gave insight on how the preparations are going ahead of the start of the league: "So far so good, we've been on track and the ladies are looking good after eight weeks of periodization."
 "We have been fortunate enough to have played games, friendly matches, some with boys, and some with senior teams, just to try to test us in terms of our physical conditioning. As well as understanding of the game and teaching us resilience as a team going into the league," says Baloyi.
Although Maties ended in the bottom half of the log last season, Baloyi remains focused to get the team to finish the league, by placing in the top three of the log.
When asked who the rising star is this season, Baloyi says she is surprised by the talent of the first-year students and she has also been impressed by Anelisiwe Ngcoboane, whom she has seen grow immensely and who is also part of the leadership of the team.  
Student athlete, Angeliswe said she has been anticipating the opening game of the season and has been checking the Sasol website often to see if they have released any information about the first game, who the first opponent will be, and if it will be a home match or not.
 "We were supposed to start last week but then with the delays, the ECG testing and medical screenings is what pushed it back, but it's kind of like a blessing in disguise because in those two weeks of delays we got in some friendly games and matches and prepare even more for the start of the season," says Angeliswe. 
The mid-fielder feels quite confident with the team, she has been on the team for four years and has seen the rebuilding of the team each year but she says this year is such a different team set up, and is fascinated but most especially can't wait to see how they perform.   
"I feel we are a solid team going forward but obviously we haven't had a single match yet, we've had training and we've had our trail games with some other teams, and we see improvement in every single game we play," says Angeliswe.
In terms of newer players, Baloyi believes that Nomthandozo is the someone to look out for. "She's got speed, she's very offensive and she's scored one or two goals during our friendly matches," says Baloyi. 
While the future of women's football looks bright, inequalities remain. The men's football club at Maties has three teams and is currently forming a fourth, and the women have a single team. 
However, progress is continually being made, since Baloyi's appointment to Maties she has been looking to expand the number of teams and looking at establishing a junior team in the future. The junior team ensures growth and preparation for the senior team, this will equip the girls with skills and training as well as the culture of the team, how they play and operate.  
"Once they get into the senior team it won't be a new environment or new people coaching them, and more than anything it will also give us a bigger pool of players to scout from because they are already in our system."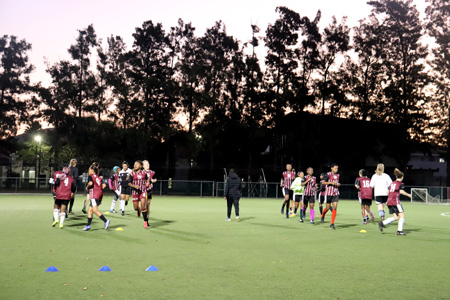 Baloyi suggests that women's football should be more visible in our communities and schools, she proposes that Maties host soccer clinics and present opportunities to student-athletes at Stellenbosch University, such as sports scholarships, and host one or two annual Maties tournaments.
Maties women's football team are looking to become serious contenders this year and this semi-professional tournament will be a perfect way to increase investment and sponsorships in women sports and to grow a larger fanbase of supporters.
The Sasol tournament kicks off next weekend at William Herbert sports ground in Wynberg, next week Saturday (11 June) at 14:00. 
Sasol league debuts: 
Nomthandazo Mokwena, 

Maitsholo Masimula,

Siziphiwe Mpazi, 

Stephanie Frenzel 

Aaliyah Anthony.
By Jamie Wyngaardt