In her maiden Varsity Netball season for the Maties Netball club, goalkeeper Syntiche Kabuya bagged player of the match awards on three occasions during the 2021 edition of the popular Varsity Sports tournament. If this was not memorable enough, her first of these awards came in her debut match for Maties Netball, when they beat Kovsies, 54-46, in Round One of the 2021 Varsity Netball tournament. She was the standout player for Maties in that opening match, with excellent interceptions on defence.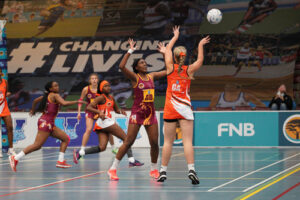 The tournament much like many sporting events took a hiatus following the national lockdown due to the covid-19 pandemic but returned for the first time since 2019 albeit being played behind closed doors. Maties hosted and welcomed all seven Varsity Netball teams as the tournament took place in a bio-bubble played at the Coetzenburg Indoor Centre in Stellenbosch. The 18-year-old Kabuya matriculated in 2020 from Brackenfell High, the same school as Rugby World Cup winner Cheslin Kolbe and current South Africa Hockey superstar and former Maties Hockey player, Keenan Horne. 
Kabuya, the youngest daughter of four children, was born in Johannesburg but grew up in Cape Town and attended both primary and high school in the Northern Suburbs of Cape Town. She has been playing netball since grade 3 and up until grade 9 she would participate in long distance and long jump as alternatives to the netball court. 
"It was in grade 3 that I actually started playing netball properly," Kabuya told Maties Sport. "Prior to this I played a bit in grade 1, but only took it serious from grade 3, at least as serious as any grade 3 kid can get, because we just wanted to play to have fun. 
"Until about grade 9, I ran long distance and did long jump as well, but it was after this that I started focusing on my netball game."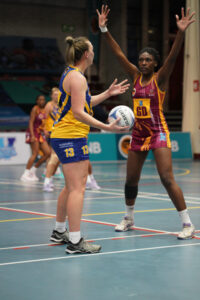 A second-year BSc student majoring in Food Science, Kabuya has been a rising star since her debut for Maties Netball, she continued with her player-of-the-match performances in the Telkom Netball League, Kabuya plays for the Southern Stings. The Brackenfell High School alumnus picked up two players of the match awards, the second one coming against the Flames towards the end of May 2022.
"What inspires me when someone keeps going and pushing through even though they might not feel like it, when I see that, I really feel inspired as well," Kabuya added.
Much to her surprise, the rising Maties player is still in awe of how well she has adapted and adjusted to form an integral part of the Maroon Machine and to be able to carry that standout performances' through to the Telkom National League. 
"It is honestly a shock to me," said a very modest Kabuya. "I never thought that I would make such an important team at such a young age."
Unlike many young university sportsmen and -women, the young goalkeeper aspires to do well both on and off the playing field, and this does not necessarily translate into Provincial, National or Olympic honours. On her most memorable moment on the court for Maties Netball, Kabuya relives her debut Varsity Netball match as the standout moment. 
"My career aspiration is to one day become a food scientist working in a lab, [while] my sporting aspiration is to feel like I have given my best every single time I step on court.
"I would say, winning player of the match in my debut Varsity Netball game and my debut for Maties, has to rank as the most memorable for me thus far."