The eldest of three brothers, hailing from a suburb in Cape Town called Kensington, with a rich history that spans more than 100 years.
Esteemed experienced and legendary Maties swimming and Team South Africa (Team SA) head coach Cedric Finch was born and raised in Kensington. Growing up, Finch, his brothers and even his parents were very involved in sports in the area and having been to three Olympic Games has seen enough to know the value of discipline and dedication to your own 'Olympic moment'.
"We all have our Olympic moment that we strive for, to some it is competing on the world stage and to the next person it could be to be the best athlete in their country," Finch told Maties Sport. "Each one has their own goal. My own goal is different to the next person. Related to sport, Olympics is the biggest stage in sport, yours might be to be the USSA [University Sports South Africa] champion, but for the next person it could be different. My goal was always to be the best coach that I can possibly be. Little gains that is important to me."
Ever since his kids joined their local swimming club in Kensington, Walmers, Finch developed a strong affiliation towards swimming. As with every coach and mentor, Finch has developed his own style of coaching, which is an athlete-centred approach, a philosophy that he continues till this day.
Finch matriculated from Kensington High and currently resides in Parow. It was in 1999 upon joining the University of the Western Cape (UWC) at the Centre of Excellence that his coaching career turned professional. With his love for the sport and the family's strong affiliation to aquatics, Finch set his sights on becoming one of the best coaches this country has seen.
"I started coaching professionally in 1999, but I have always seen myself as giving back through my coaching," Finch said. "It was at UWC that I was given my crack as a professional coach. I am indeed indebted to Walmers Swimming Club in Kensington for helping me to hone my coaching skills. I started out as an assistant coach and then about 11 years later I was on my own, heading up the coaching for the swimmers at UWC."
In 2010, well over a decade later, Finch took the role of the head coach which included training and preparing the aquatic athletes ahead of the London 2012 Olympic games.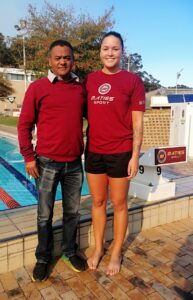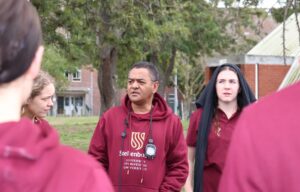 "At the Centre of Excellence, we had about five (5) Olympic swimmers in the pool which included Natalie du Toit, getting ready to showcase their talents on the world stage. We trained them for about ten sessions per week, a morning and evening session for five sometimes six days per week."
It was after the 2016 Rio Olympic Games that Finch joined Maties Swimming, by this time he was the head coach of Swim SA Open Marathon swimmers, a position which he currently still holds. He would go onto add the 2020 Tokyo Olympic Games to his resume. Despite coaching some of South African most successful professional swimming athletes, Finch believes that his work with students goes beyond the pool, and he hopes to inspire each student-athlete to continue their studies and ensure that they graduate while remaining competitive in the pool.
"I was the manager and coach to the entire aquatics team for Swim South Africa at World Champs, this included diving, synchronised swimming, open and pool swimming. I have always been involved with students; it has been over 20 years that I have been a professional coach but helping students graduate is one of the most fulfilling things that I get to do.
"Stellenbosch student-athletes are exactly that – students. They are students first, so their academic work should always come first followed by their sporting careers."
Finch has three boys and a girl; all have been swimming either provincially or nationally. His son, Doyle, was part of three students who represented UWC at the World Student Games in 2009 including Binta Diop (Senegal) and Victor Lempane (SA).
"If you can believe it, see it, dream it, you can become it," that is what Finch would tell his 10-year-old self. "I never thought I would be a coach one day and look, I get to travel the world coaching some of the country's best swimming athletes."
While at home, ironically Finch loves working with fire. He loves cooking, specifically potjie, as a former Boy Scouts he is very well equipped to make use of any fire to cook up a storm.