Pro Events and Maties Football have formed a partnership that includes a donation for high performance bursaries as well as a sponsorship to advance the Maties Football programme delivery with a focus on Campus Football, league and University Sport South Africa (USSA) national university championships.
Pro Events decided to invest in Maties Football Club, with the Head of Operations at the company Mr Edward Beeka citing a key reason being the Maties "rich history of sporting success". Beeka went on to say that: "Their [Maties Sport] holistic approach in embracing inclusivity for talented students to participate in sporting codes and academic programs is commendable."
The investment will assist talented student-athletes identified by Maties Football from marginalized communities to achieve academic excellence as well as sporting success, thus ensuring investment in holistic well-being.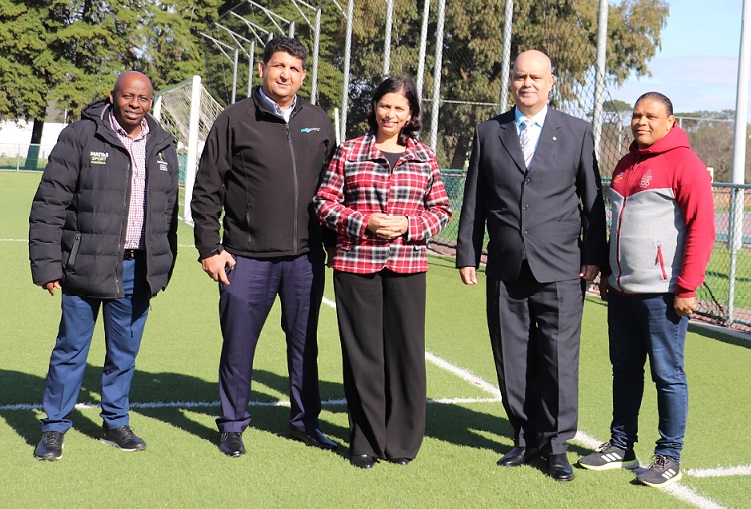 Pictured (left to right): Jerry Laka (Maties Sport Director Support Services), Edward Beeka (Head of Operations Pro Events), Ilhaam Groenewald (Maties Sport Chief Director), Yaseen Mack (CFO Pro Events), Ellroy Smith (Sport Manager: Maties Sport Football).  
Beeka further acknowledges that sport is a powerful tool to create social cohesion, and over the past two decades the company has prided itself by sponsoring various community based sport clubs as well as athletes who have competed internationally.
Beeka shared that their company is proud of their distinct culture, strong values and uncompromising commitment in making a difference in our communities. For Pro Events, "transformation is only possible if there is a collaborative initiative to promote equality and opportunities for greater inclusivity," he expressed.
The Chief Director of Maties Sport, Ilhaam Groenewald, expressed her appreciation with the Pro Events investment and cited it as a key deliverable of Maties Sport, aligned to three (3) of the Stellenbosch University's strategic themes namely 1.  A Thriving Stellenbosch University; 2.  A Transformative Student Experience and 3. Purposeful Partnerships and Inclusive Networks
Ellroy Smith Sport Manager for Maties Football lauded the investment that will assist the club to provide more bursary allocations for our student-athletes that will strengthen the financial contributions for student-athletes in need. We are truly grateful to Pro Events for investing in the club and our student-athletes," he concluded.
By Kimara Singh