Maties Sport's Dr Nana Adom-Aboagye was recently awarded for her post-doctoral research in sport as being one of the Top 20 post-doctoral fellows at Stellenbosch University (SU) from the Deputy Vice-Chancellor for Research, Innovation and Postgraduate Studies, Professor Sibusiso Moyo.
When asked how she feels about being recognized by the DVC as one of the Top 20 post-docs at SU, Adom-Aboagye had this reaction: "If I am to be honest, it feels surreal, as I did not think that I was producing enough to be considered, along with the fact that STEM fields have pushed social sciences to the periphery. I applied last minute, and did not think about the application until I received notice that I was a recipient."
"It has always been my mission to do work that matters, that has impact on the lives of those engaged with and to provide a platform for the marginalised. With or without this award, that would never change, because the motto that drives me is: "Be the change that you want to see in the world". I believe in that saying, no matter how small my personal impact may be in the end," she said.
The award recognizes fellows who have excelled in research and contributed to the Stellenbosch academic community. Adom-Aboagye who joined SU in June of last year has been working on research titled, The Needs and challenges of physically disabled women in South African sport: A case study for diversity and inclusion.
"My research explores the lived experiences of physically disabled women in South African sport, to unpack the needs and challenges of a sub-set of South African women, that are often forgotten about by society and especially in sport. This study is the first of its kind in South Africa and in Africa, and I hope to further expand upon this initial pilot study, going forward."
"One preliminary finding has shown me that involvement in sport for physically disabled women is harder for women of colour, especially if they are from poor socio-economic backgrounds. Another finding is that sport for the physically disabled (irrespective of gender), needs greater support from society, particularly able-bodied sport, especially as the current athlete pool is aging out and/or being forced to retire, due to lack of/limited support and resources. This is because sport for the disabled community is far more expensive than for able-bodied individuals, yet disability sport can get up to a 10th (or far less) of the support that able-bodied sport gets," she explained.
Adom-Aboagye who has focused on sport research for many years particularly women in sport, will be transitioning into a new role at Maties Sport as she heads up our Centre for Sport Leadership (CSL) starting in September. She attested that receiving this award provides some sort of validation that the field that she is currently in and the work she does matters.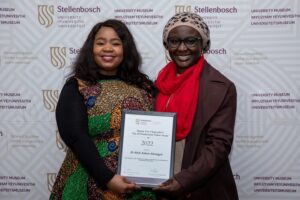 "Once added to my CV, it will also hopefully provide me with greater credibility globally. Credibility and awards are what are needed to grow the CSL as envisioned, in Africa and beyond. I will not let this award distract me and will continue to work as if I have not received an award. Only way to avoid complacency!"
After receiving the award, Adom-Aboagye wanted to also recognize the role her family and mentors have played in her research journey saying:
"First and foremost, my family have been my biggest cheerleaders, especially when times were tough, and I was unemployed before and after my PhD. They believed in me even more than I did at times. A strong support system is what is needed, especially when you are embarking on a field where you are a minority and must prove yourself nearly daily.
Secondly, my PhD supervisor and now mentor – Professor Cora Burnett (University of Johannesburg). She took me on as a PhD student and believed in my research when no one else would. I have learnt a lot from her and work daily towards practicing what I learnt. She is a world-renowned scholar that has opened doors for me during and after my PhD studies and the plan is to continue to work together in the future.
Last but not least, our Chief Director – Mrs Ilhaam Groenewald (Maties Sport). She saw something in me during my interview and decided to give me a chance as a Post-Doc at the Centre. This was a year after completing my PhD studies and being unemployed. My time at Maties Sport and the Centre, has seen her challenge and motivate me; with her even taking on some of my inputs. This is rare to me…
Both women have shown what is sorely lacking in South African sport right now – prominent women helping to direct and lift up those that are behind them, who strive to give back like they have, and are still doing.
So yes, this award, though some may consider it small, means a lot to the little girl who grew up in rural Eastern Cape, at the foothills of the Maluti mountains. This award will prove to many other young girls and women out there, that it does not matter where you start or where you are from, or how many people question your place and ability. What should matter and what should motivate you, is how badly you want that dream (even if it may change direction at times) and the handful of people who believe in you," she concluded.
By Kimara Singh