By Jamie Wyngaardt
"I feel weird, it is like I am still me but at the same time a world champion. It is an amazing feeling knowing that I have not just made myself proud, but I made my community, my family, and my fellow peers proud."
Said the Stellenbosch University student and aspiring social worker Shaiyene Fritz.  The 21-year-old billiards player is the current world champion, who represented South Africa in the 2022 World Blackball Championships in Morocco last month in October.
The community where she grew up, Lavender Hill, unfortunately, had little to no resources to keep her young brain busy. However, as in any other Cape Flats community, you can always find a 'game shop' with a pool table.
"I always say that pool billiards was my destiny as we moved around quite a bit, and wherever I moved there was a pool table around the corner or in my road. I practiced and the more I played, the fonder I grew of the game," says Fritz.
She often played at her local game shop, and the owner decided to make it an official club by registering as part of the Western Province Pool Union. This allowed the club to represent Western Province and South Africa at different pool competitions all over the country.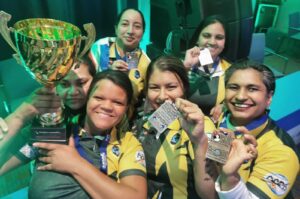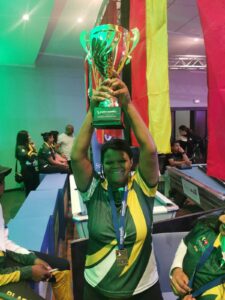 Her passion for pool allowed her to travel, play against the toughest competition, and bring home trophies and medals. She says the sport has taught her many valuable lessons. "There is no place for arrogance and narcissism in this game, only hard work. These are also the aspects that contribute to being a successful person in one's personal life as well," claimed Fritz.
The billiards player believes that her work ethic, dedication, and passion are things no one can take away from her, and her concentration and consistency are what make her the best.
When she was selected to represent the green and gold at the 2022 Blackboard Games Champions, she, unfortunately, did not have all the funds, however, her parents were a pivotal part of her fundraising efforts. The Fritz family would often have raffles, sell boerewors, and do beach outings for the youth in their area to raise funds for her tournaments.
"This money came at a time where I was worried about whether I would be able to survive and actually enjoy myself. This money helped me in more ways than one, and I hope I have made Stellenbosch University proud," says Fritz.
Stellenbosch University contributed a "hefty sum of money" that covered her domestic flights, food, and other necessities she needed for the two weeks in Morocco. She also thanked her family, friends, and sponsors for all the support.
At the end of the tournament, South Africa ended at the top of the log, bringing home a total of 32 medals. Being a part of the team is something Fritz is extremely proud of.
When asked who has mentored and guided her, she says: "Not one person in particular but many people such as Antonio Paulsen, Glenville Jacobs, Bonita Prins, Llewellyn Sedgwick, Mike Jones, Lenyuktha Chetty, Joy Willenberg, Alexia Julius and way more. Too many to mention but I will always be grateful to them for the sacrifices they have made to help me become a world champion."
Next up for Shaiyene is the prestigious Hawley Cup Champions, which takes place next year, she expressed how excited she is to participate in it and hopefully win.
"It is slowly becoming a reality that pool will soon be one of the sport codes featuring in the Olympics and I am working hard to make sure that once that happens that I am prepared to participate and to win the Olympics," she tells Maties Sport.
Shaiyene fully supports the campaign to bring billiards as an additional sport to the Olympic Games in Paris 2024.