2022 has been an exceptional year for Maties Sports, students have fully returned to sports, and have participated in many tournaments and competitions, representing Maties Sport nationally and internationally, while excelling academically.
This year's Maties Sport Awards celebrates a Night with Our Stars, with our our student-athletes and staff. It was the first time after two years that we hosted an in-person awards after the pandemic with 300 guests in attendance. Professor Thuli Madonsela was the keynote speaker on the night and spoke on deepening democracy through sport.
Our student-athletes were recognized for their achievements both on and off the field and we all shared in the joy as they received the recognition that they all truly deserved after all the hard work that went into the respective sporting codes this year.
"The Maties Sport team are proud of the determination and efforts that many students have undertaken since the pandemic restrictions have been lifted.  And as Chief Director, I am in awe of the massive strides our student-athletes have taken to get on podiums this year – such stellar achievements by so many our students-athletes," said Ilhaam Groenewald Maties Sport Chief Director.
The best of the best were revealed as Charl du Toit and Anika Pretorius took  Sportsman and woman of the Year in the Parasport category while Clayton Saker and Mire Reinstorf took the Sportsman and Sportswoman of the Year awards.
This is what our Sportspersons of the Year had to say after receiving their respective awards: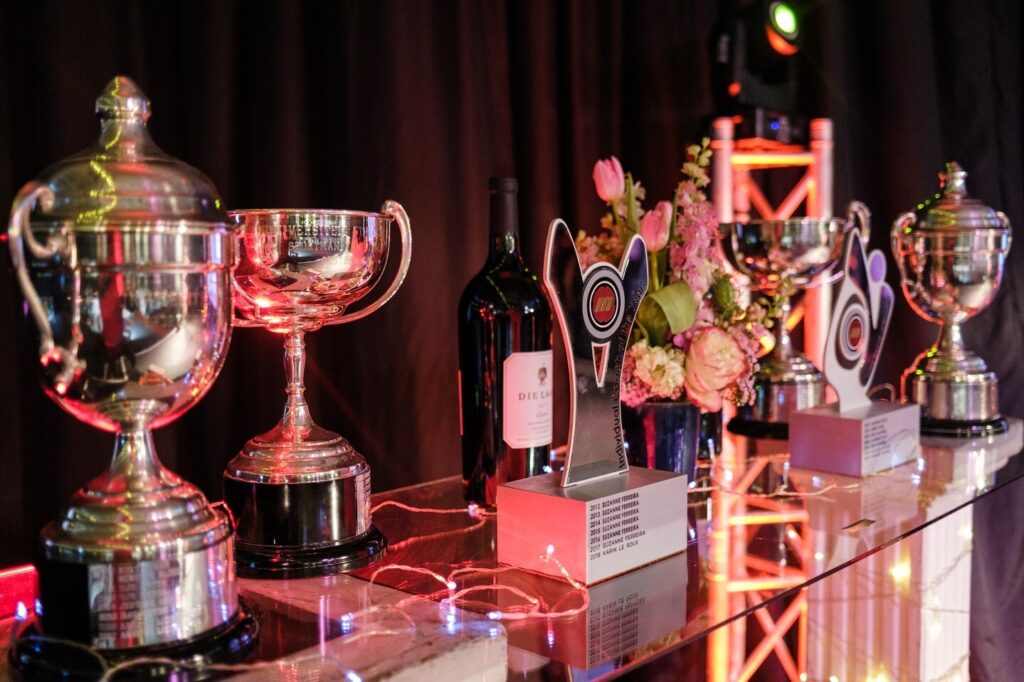 Anika Pretoruis
"What an honor for me to receive this amazing award, second time in a row. It's such a privilege and I just want to say thank you so much to Maties Sport, especially in this last year. The support was really amazing after the Paralympic Games, I went through a really tough time, and Sean Surmon and Grant van Velden, I just want to say thank you so much for your support. I also joined Maties Rowing after my foot injury, which was amazing, so thank you to Maties Rowing."
Charl du Toit
"It is an amazing honour to be the Maties Sportsman of the Year (Parasport), this university has done so much for me, and I really appreciate all the opportunities that they have given me over the last couple of years.  This was the last one and thank you so much to everyone that has invested into this journey, my coach, Sean Surmon and everybody at Maties Sport."
Mire Reinstorf
"I'm very grateful for the award, I'm very happy to have received it. I just want to thank everyone that has supported me through this journey and who has been there every day and every step of the way, my family, my coach, my friends and my Heavenly Father."
Clayton Saker
"I'm overwhelmed with emotions at the moment, I'm really happy and excited to win this award. Congratulations to everyone else who was nominated. In the end we will all be celebrating our successes, but I'm really thankful and privileged to have this award."
Triumphant Varsity Netball winning coach Zanele Mdodana snatched the Coach of the Year in Team Sport and veteran Suzanne Ferreira took the award in the Individual Sport category.
Coach Zanele Mdodana had this to say after winning Coach of the Year (Team Sport), "This one wasn't very much expected but I'm extremely honoured and proud of the troops and the way that they showed up this season. We hit the ground running right from the word go, so I'm very proud as a coach and I'm honored to have this award, and this one I dedicate this to my mom, to my captain Sian Moore she was really phenomenal and showed massive responsibility and really led the troops to that [Varsity Netball] victory."
Special awards were given to USSA Winners in 2021/22 and our recent Varsity Sport winners: cricket and netball who both went unbeaten in their respective campaigns while Rowing won big in the media category for their innovative and eye-catching content. The Team of the Year was awarded to netball for an outstanding 2022 and Club of the Year given to hockey.
Another true indication of Maties Sport holistic experience was seen in 50 athletes receiving Full Colours and 20 athletes being recognised for their Academic Achievements.
A special recognition award was given to outgoing Prof Eugene Cloete for his contribution to Maties Sport over the years by our Chief Director. Merit Awards  were also award to Shannon Stodel (Student Administrator), Candice Williams and Grant van Velden (Executive Leadership) and lastly to Cameron Laurenson and Adam Moncherry (non-students).
By Maties Sport Media and Communications Unit