Maties Sport has a strong contingent of current and alumni athletes heading to the Tokyo 2020 Paralympics Games scheduled to take place from the 24th August to 5th September.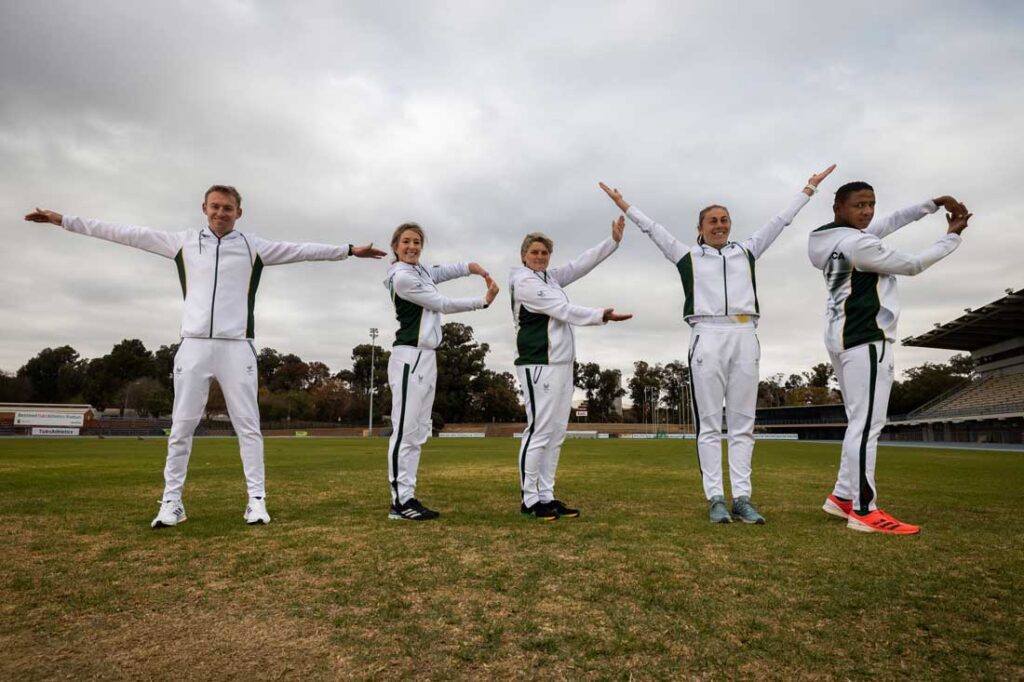 Seven Maties former and current athletes made the team for athletics namely Anika Pretorius, Anrune Weyers, Charl du Toit, Dyan Buis, Kerwin Noemdo, Reinhardt Hamman, Zanele Situ whereas Ernst van Dyk and Toni Mould are the only Maties pair taking part in para-cycling as well as Christian Sadie for swimming, and finally coaches Daniel Damon (coach – field) and Suzanne Ferreira (coach – track) make up the final members of the Maroon Machine team on their way to the coveted games.
Maties ParaSports manager Wentzel Barnard beams with pride and says, "I am extremely proud of the club's good representation in Team South Africa going to the Paralympics. I am also grateful for the support, input and role Maties Sport's High Performance had in the preparation of these athletes especially the athletics group. I feel this kept them focused on their Paralympic goal.
I must mention the ParaSport coaches, that has been a pillar of support on and off the field. The club is very fortunate to have two world-class and dedicated coaches for athletics as well as great coaches for para-swimming and para-cycling," he explained.
Maties Sport Chief Director Ilhaam Groenewald went on to reiterate that, "Stellenbosch University, Maties Sport has a strong Parasport, previously known as Disability Sport, history and until today, the work of a few individuals continues to produce Paralympians.  We have a total of 12 (22%) athletes, coaches and alumni forming part of Team South Africa and we are very proud of everyone.
Our numbers have however dwindled over the years, especially for student-athletes and our club is a microcosm for what is happening in South Africa.  However, we are committed to our para-athletes, but cannot do this on our own," she mentioned.
Groenewald went on to extend her advice and encouragement to Team South Africa as they get in their final preparations: "A reminder that the last two years had a major impact on your preparation, yet you continued to give your best.  For South Africa it is a different best, noting the vast differences of our investment in sport.  It is however your resilience that continue to make you stronger to always give your best, no matter what.  #ProudlySouthAfrican you are!
Tokyo 2020 will be a very different experience and critical that everyone takes care of their mental wellness.  The athlete's village provides a unique opportunity for our contingent to spend more time to get to know each other better.  You have the opportunity to learn more about each other's cultures, the basics of a new language, how other countries high performance programmes work, form new relationships – thus embracing the Olympic values of excellence, friendship and respect," she encouraged.
Furthermore, Maties ParaSport Manager Barnard shared his views on the athletes to keep an eye on during the Paralympic games and extended his well wishes to the team saying, "Looking at the Paralympics over the past years, anything is possible with the level of competition getting more difficult and challenging. I would say that the two athletes one must keep an eye on, is Anrune Weyers, as her times are currently the world leading times, and field athlete Kerwin Noemdo, who is competing in his first Paralympics. Then the veteran para-cyclist Ernst van Dyk will put everything on the line to get to that top position of the podium.
My wish for all of them is to perform to the best of their ability and that they know we as a nation we are proud of them as they continue overcoming many barriers each and every day, even close to home where everything seems to be perfect, to perform at the highest level," he concluded.