Maties Sport hosted over 150 student-athletes at the USSA (University Sport South Africa) Send-off earlier today ahead of the 2023 USSA Winter tournaments.  
Stellenbosch University Rector and Vice-Chancellor Prof Wim de Villiers addressed Maties Sport student-athletes with an inspiring message, to enjoy and live in the moment!  
Prof de Villiers referenced one of Michael Jordan's famous quotes: "I've missed more than 9000 shots in my career. I've lost almost 300 games. 26 times I've been trusted to take the game winning shot and missed. I've failed over and over and over again in my life and that's why I succeed." 
He applauded the teams for balancing their sports and academics, always being students first and athletes second. He reminded the students that they only miss the shots they don't take. And that they should get up and try again.  
He concluded his address by singing "Wishing you luck and waving you goodbye."  
The 2023 USSA Winter Championships includes our high-performance sporting codes, Netball, Rugby, Basketball, and Hockey, as well as our competitive sporting codes Badminton and Squash.  
NETBALL 
Maties Netball the defending champions will welcome 32 universities in South Africa to compete for the title in Stellenbosch. It was an excellent year for Maties when they claimed gold at USSA 2022 after 27 years of falling short of the title. The second team also claimed a worthy bronze trophy. The first team will compete in section A – Super League and the second team will compete in Division B. The teams are filled with debuts, and they are eager to showcase their talent.  
The USSA Netball Tournament will take place at Maties Netball Courts in Stellenbosch from 3-7 July 2023.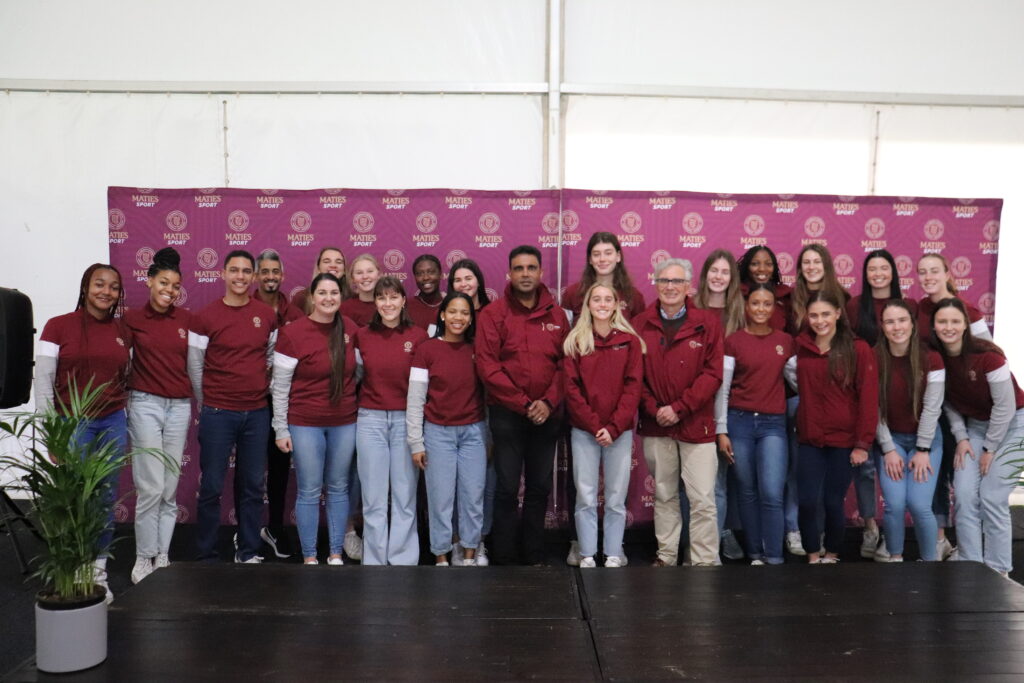 HOCKEY 
The Maties Hockey men's and women's teams will compete to retain their double gold from the 2022 champs. Captain of the Women's Team, Ongeziwe Mali shares how excited they are: "We are grateful for the opportunity given, all the preparation and hard work that we have put in will show on the field. We can only hope for a gold medal!"  
The USSA Hockey Tournament will take place at IIE Varsity College in Durban from 3-7 July 2023.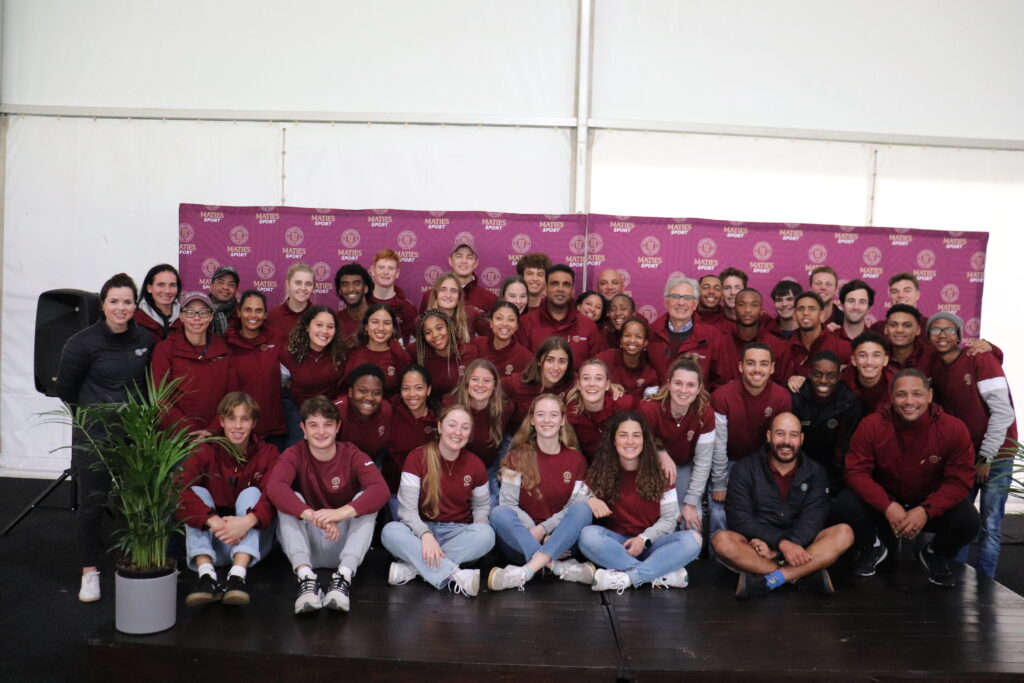 RUGBY 
Maties Rugby snatched gold last year and is hoping to keep it in Stellenbosch. The maroon machine has been hard at work with the guidance of Coach Kabamba Floors and Coach Craig Barry after the Varsity Cup competition. "It's our responsibility to be the leaders, and to lead the pack," says Coach Kabamba. The team of fifteen will be led by Captain Gift Dlamini who has been with the maroon machine for 5 years.  
The USSA Rugby Tournament will take place at IIE Varsity College in Durban from 8-12 July 2023.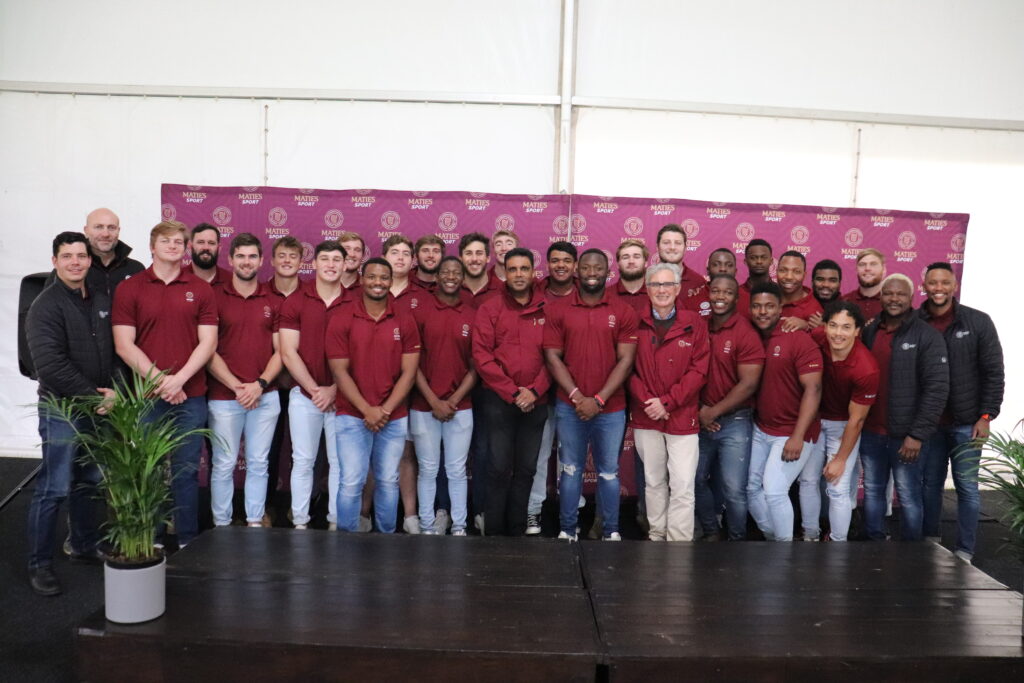 BASKETBALL 
Basketball is hoping to improve its positioning this year, the women's team placed 9th in the 2022 tournament in Johannesburg. The men's team faced TUT in the semi-final, losing by 4 points which landed the team 4th position.  
The men's captain, Lutho Skweyiya admits that sport and academics has been a struggle during his speech at the send-off function, "a beautiful struggle" he calls it. Although it is challenging, he shows his gratitude towards Maties Sport for providing him and other student-athletes with mental health and psychology sessions facilitated by Eugene Oppelt, the frequent check-ins and the guidance given throughout his 5 years of being at the University.  
The USSA Basketball Tournament will take place at IIE Varsity College in Durban from 5-9 July 2023.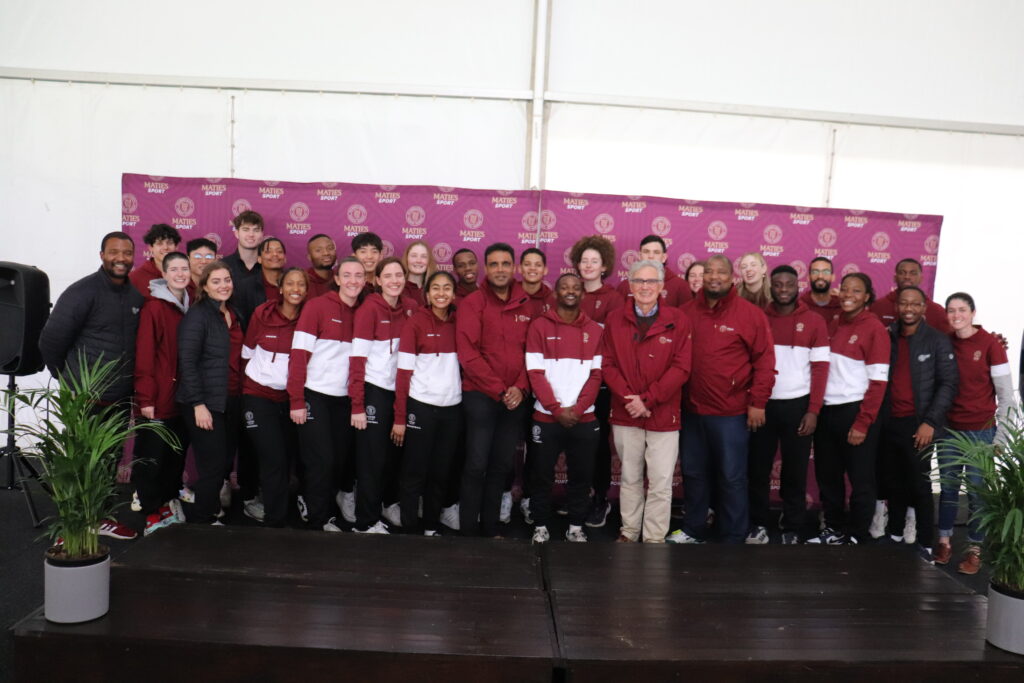 SQUASH & BADMINTON 
Two gold medals and one silver medal were earned by the Maties squash in the individual section of USSA 2022, a further two silver medals were secured by the team in the team events. The team has worked hard to keep up the momentum and motivation to add more trophies to their collection. 
Our badminton team is looking forward to this year's competition as they had an outstanding performance last year.  The team made it to the finals and claimed first place for the team event, including the women's team who received two gold trophies for doubles and individuals. The men's team placed second place for individual and third place for bronze. 
The USSA Squash Tournament will take place at Parkview Squash Courts in Johannesburg from 5-9 July 2023. The USSA Badminton Tournament will take place at TUKS in Pretoria from 9-15 July 2023.  
Grant van Velden, Head of the High Performance unit at Maties Sport concluded the send-off with this: "I would like to leave you with this: We are the Maroon Machine – we will not stand back in the face of adversity, nor yield to foes that try to defeat us. We will lift each other one another up to the highest heights knowing that together we are indomitable. We play with honour and with pride, and with a hunger to succeed. 
We wish all the Maties teams competing at USSA the very best, go out and defend your titles with pride!