By Cody Hansen
Stellenbosch University's (SU) Maties Esports club was founded in 2017.
The club currently has 19 active players and competes in FIFA, Rocket League and Clash Royale – which are the titles played at the USSA Esports championship.
"We play in various online tournaments via ACGL, as well as in person or LAN tournaments," said Yaseen Gangat, Sport Manager of Esports at Maties.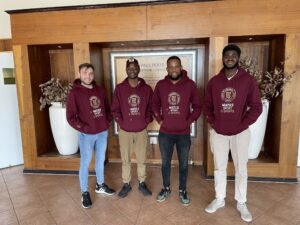 Maties Esports club members (from left to right); Dehan Pretorius, John Walenga, Wiseman Mhlongo and Stanley Shikwambi
USSA on the horizon
Maties will be competing at the USSA Esports championships at the University of Cape Town from 30 September to 3 October. The club won the first ever edition of the event in 2019.
Gangat is hopeful they can put up a strong performance.
"We currently have the strongest Rocket League team representing a South African university and will be expecting a gold in that title. FIFA is a toss of the coin – we have experienced players who are all capable of going all the way, and Clash Royale is still a developing title within the Stellenbosch University structure. We will be doing our best," he said.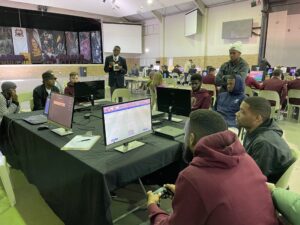 Members of the Maties Esports club compete in an Esports tournament at Paul Roos Gymnasium
Developing Esports at SU
SU doesn't have a permanent Esports venue at present, so the club "can only compete online via the ACGL website and in-person tournaments," said Gangat. The lack of equipment and a permanent venue has been an obstacle for the club in the past, he said.
However, there are plans in place to build a new Esports hub on the SU campus, which will be a "game changer", said Gangat.
"Planning for the new Esports hub is in its final stages. The location is set to be announced soon. The world class facility will have gaming, streaming, content and many more world class features," he said.
Gangat hopes the new hub will attract some of the best Esports talent in the country.
"A notable recruitment for next year is Ethan Dysel. He competed in the Rocket League world championship in Dallas, Texas, a few weeks ago. Students like him will elevate the Esports programme," he said.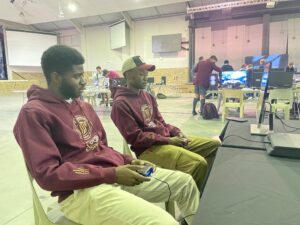 Maties Esports club members Stanley Shikwambi (left) and John Walenga (right) compete in an Esports tournament at Paul Roos Gimnasium
Interested in Esports?
The Maties Esports club is planning to host a three-day Esports tournament in the Neelsie, which will take place from 15 to 17 September. The tournament will be open to all SU students.
For more information interested players can email: yaseeng@sun.ac.za
Students can also sign up for the club by filling in an online membership form on the Maties Sport website.
"Our club is always looking to increase participation and will be introducing more titles in the near future, creating an inclusive environment," said Gangat.