The Maties netball first team were recently crowned champions at the annual University Sport South Africa (USSA) tournament by beating Nelson Mandela University (NMU) 44-20 in the final last weekend.
The Maroon Machine started their week off with convincing wins against Tuks, North-West University and NMU who they would later meet in the final of the competition. Their momentum and experience from last year's Varsity Netball final prepared the team for what was a historic victory to come.
Coach Zanele Mdodana who joined Maties in (2017), has had the privilege to nurture her team and after narrowly missing out on silverware last year and disruptions on the sporting calendar due to the Covid-19 pandemic made this victory extra sweet.
The last USSA Championship win for Maties came in 1995, the now NMU Head Coach Lana Krige was on that team leading from the front as captain. Mdodana went on to say that, "A full circle moment indeed, Lana Krige was my coach at university – I played with her, provincially she also coached me, she mentored me, everything I know about the game I learnt from her. I still refer to some of her coaching manuals and techniques.
"We started chatting and she [Krige] told me the last time Maties won the USSA gold was in 1995 and she was the captain of that team! I was like what? She showed me the picture but said she would only send it after the final.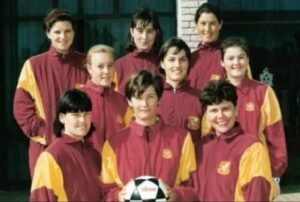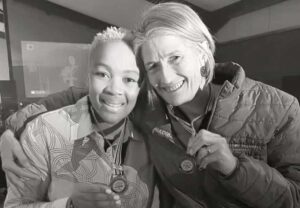 "The way Madibaz got into the final is testament of how brilliant Lana Krige is. It was quite a nerve-wracking situation for me because I know how good she is and I know how her players respond to her, and it was really good for us to go on court and just stamp our authority."
Now 27 years later, Mdodana had the honour of leading the team to their first USSA win in almost three decades.
"The girls said from the word go in the beginning of the year 'Coach we have knocking on this door for so long and it's just about time that hard work pays off and we give our sacrifices the reward it deserves'…
"We went through quiet a lot of challenges building up to USSA but it was really the girls coming together and putting each other and the team first, really grinding and sacrificing so much for them to ultimately go and win that USSA gold. This one goes down in my book as one of the best highlights in my netball coaching career so far," insisted Mdodana.
Charle Swart, Sport Manager for Netball is equally as happy as her Coach with the triumph for the team saying: "As club manager I feel we final got the monkey off our back, but we won't get ahead of ourselves and that's the important part for us now to replicate what we have done. This group of players with the coaches have really worked hard and have been rewarded for it. Success always boosts the team and the confidence so I'm looking forward to the rest of the season ahead. We will review and see how we can keep on improving on and off the court."
Testament to the current improvements on and off the court is Mdodana's team philosophy over the years, "I have had many philosophies these last couple of years but specifically for this tournament we focused on two things: 1. Courage – Courage to do what we do best, courage to throw the balls we have been passing so many times, courage to take the shots from anywhere in the shooting circle cause you have done it so many times, courage to be confident to take those strong drives and defend with all your heart and courage to hustle every team we play against not playing with fear but just courage.
"2. We focused on the task in the moment, nothing else mattered but the task in the moment and when you buckle down on that – we really were virtually impossible to beat," she expressed.
Maties approach heading into the final was that they were playing Madibaz for the first time and was important for the team to hit the ground running. They did not give the Eastern Cape side any hope to get into game, however it was still a great privilege for Mdodana to face Krige in the finals and was a good final showdown between the two teams.
"I was completely blown away by my team, the girls really shocked me every day and I kept saying to them that I couldn't believe how well they were playing as a team.
"Every player grew for me, each and every one – all 12 of our players were actively involved in this campaign, it wasn't seven players with five sitting on the bench. We could play anybody at any given moment," said the seasoned Maties Coach.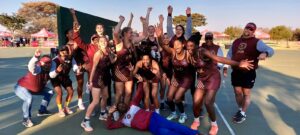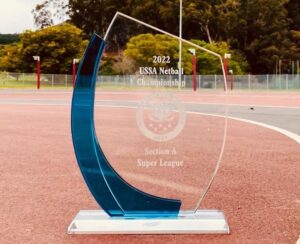 On top of snatching gold, three Maties went on to make the USSA Dream Team namely captain Sian Moore, Syntiche Kabuya and Chrisley Marshall while our Maties 2 side grabbed a podium finish coming home with a bronze medal.
"Sian being the captain of the team, that was a big thing for me, how she carried the team by keeping the troops together and being focused for the full tournament.
"We had a plan and we just went out and executed it, be it on court or off court. When it comes to nutrition, cooldowns, warmups – all those very basic things, we didn't cheat the grind and that all cultivated in us having the success that we had," concluded Mdodana.
By Kimara Singh