By Cody Hansen
Stellenbosch University's Maties netball team will face the University of Johannesburg (UJ) in the semi-finals of Varsity Netball on 10 October at the Coetzenburg Centre.
Maties have been flawless in the competition so far, winning all seven games and topping the Varsity Netball log. The Maroon Machine are aiming for their fourth Varsity Netball finals appearance, having previously reached the finals in 2015, 2019 and 2021.
PHOTO: Twitter/@VarsityNetball
UJ have been the underdogs of the competition, securing their first ever semi-final appearance in Varsity Netball after finishing fourth on the log. The 'Orange Army' narrowly edged out the University of Pretoria (Tuks) to seal the last qualifying position after a thrilling 53-51 victory over the Pretoria side in the final game of the round robin stage.
The previous meeting between the two sides went down to the wire, as Maties came from behind to claim a 44-42 victory over UJ in round four of this year's Varsity Netball.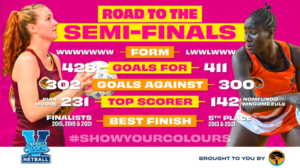 PHOTO: Twitter/@VarsityNetball
Under the leadership of coach Zanele Mdodana and captain Sian Moore, Maties claimed a historic victory at the USSA Netball championship in July, and the women in Maroon will be hoping 2022 is the year they claim their first Varsity Netball crown.
The game starts at 19:00 and tickets have been sold-out online, although the action will be broadcasted live on SuperSport.